Gaming is one of the largest industries in today's world. Everyone's childhood is full of gaming experiences. But now the time has changed. Technology changes everything; even today, people play mobile games on PCs. Thanks to Android emulators that has changed the course of the gaming experience. The Android Emulator, like BlueStacks, is a tool that allows users to create an Android Virtual Device (ADV) on a PC. It can run apps from the Google Play Store on Windows and macOS operating systems. Users can enjoy and uninstall any Android application through the Android emulator, similar to how it is done on a physical Android device. It can be used by anyone, from gamers to Android app developers. The emulator allows Android developers to test apps on a single device profile, eliminating switching between multiple physical devices.
Advantages Of An Android Emulator
Easy Visualization: Computer screens are far better in dimension and size compared to mobile. So the players can play games quite easily on a bigger screen and never miss a detail.
Game Controlling: Due to the short mobile screen, the game's control is not accurate, while if you are playing a game on PC, it gives you 100% accuracy with keyboard & mouse controls.
Mobile-exclusive Android Games on PC: Due to the Android emulators, gamers can now play their mobile-exclusive games on PC, which was impossible a few years ago.
Multiple games at the same time: Now gamers can play multiple games at the same time with the same screen. I think this is more than a fantastic experience.
No worry about battery life: Every time you play a game on mobile, you have to face the battery problem. Getting off the mobile battery is a tension for the users. You must wait a long time to recharge your mobile and then play the same game. but now this problem is solved. You can play the same game on your PC tension-free.
No need for high-end phones: The latest and most expensive mobiles were required to play an Android game. But not now, you can play the same Android-exclusive game on PC through Android emulators.
No text or call interruptions: Text or calls would not disturb Playing games on PC. You can take calls or messaging with anyone while playing the game.
What is BlueStacks
Now.gg, Inc. owns the bluestacks app player, the world's most widely used app player. If I'm not wrong, over 500 million people play thousands of mobile games on their desktops. It would be a fantastic experience to download bluestacks and experience the mobile game played offline or online in the browser right away with HD resolution, regardless of your PC's specifications.
The BlueStacks App Player was developed with the theme that gamers can expect top-notch performance and responsive controls for their favorite games. The customization settings option enables gamers to do many settings at their convenience. If you play on the BlueStacks platform often, you can rack up offers, awards, and tokens in the integrated gaming wallet.
Features Of BlueStacks
1. Play Android-Exclusive Games
BlueStacks enables gamers to unlock the epitome of gameplay immersion, facilitating the exploration and acquisition of the most optimal gaming experience, whether through the ethereal realm of cloud gaming or the traditional confines of personal computing. Enthusiasts of interactive digital entertainment can procure and engage with a mobile video game on a personal computer or commence their gaming experience expeditiously via a web browser without any downloading or installation procedures.
2. The Fast And Light Weight Gaming Platform
BlueStacks exhibits remarkable celerity, boasting a setup time that surpasses its counterparts by up to 50% and a commendable reduction in RAM consumption by an equivalent percentage. It provides an extensive repertoire of over two million games and has garnered the trust of over half a billion gamers across the globe.
3. Android Exclusive Game On PC
BlueStacks enables enthusiast gamers to engage in the immersive experience of their preferred Android games on a personal computer, harnessing the advantageous functionalities of a keyboard, mouse, or gamepad. Furthermore, individuals can tailor and craft bespoke controls with meticulous attention to even the most infinitesimal particulars.
4. Super In Performance
BlueStacks enables attaining a maximum of 240 Frames Per Second (FPS). By achieving a high frame rate per second (FPS), gamers can access a state of low-latency gameplay, resulting in seamless transitions within the game environment. This optimal gaming experience is characterized by enhanced fluidity and improved overall gameplay quality.
5. Advance KeyMapping Features
The gamers must rejoice that the Advanced Keymapping feature employs a highly intuitive drag-and-drop interface, thereby facilitating the process of modifying controls considerably.
6. Easy Control Through Macro Tools
One of the inherent features of BlueStacks that Android games is its capacity to facilitate the automated execution of controls. Should you desire to employ a sophisticated amalgamation of offensive maneuvers repetitively? It is advisable to record said sequence utilizing the Macros tool. Subsequently enabling the playback of said recorded sequence with a solitary key depression. Your adversaries shall find themselves rendered utterly speechless, their faculties of verbal expression incapacitated, after their swift and effortless defeat at your hands.
What's New In Latest BlueStack Update
In the August new.gg launches BlueStacks 5.13 version, meticulously crafted to enhance your Android application and gaming endeavors on personal computers. BlueStacks has consistently prioritized providing a seamless mobile gaming experience as the preeminent Android emulator on personal computing devices. In the latest iteration, version 5.13, they have made notable advancements in our capacity to modify weaponry by utilizing the mouse scroll wheel. Further, The diligently crafted various characteristics are poised to augment and enrich your overall engagement with the game.
1. Swap Weapon Through Mouse
With an enhanced sense of intellectual gratification, indulge in the heightened pleasure of engaging with your preferred tactical shooter first-person perspective (FPS) video games, such as Standoff 2 and Free Fire. The latest iteration of BlueStacks, namely version 5.13, allows users to alternate between weaponry employing the mouse's scrolling mechanism effortlessly. Merely move vertically along the screen to effectuate the transition between armaments. Fret not, as the keyboard bindings pertaining to switching weapons shall remain unaltered. They have implemented enhancements to the scrolling interface in order to optimize and enhance the overall user experience, resulting in a significantly smoother and more seamless interaction.
2. Use the Mouse Wheel to zoom In/Out
Integrating mouse functionality into the latest version of BlueStacks, namely BlueStacks 5.13, empowers the player with direct control over this input device. One can establish the default modus operandi of the cursor throughout the entirety of gaming experiences. As an illustrative example, one may employ the scroll wheel to manipulate the visual perspective, allowing for both magnification and reduction of scale within the realm of interactive digital entertainment experiences. This particular attribute can be conveniently adjusted within the Controls Editor, rendering it especially advantageous for individuals who derive pleasure from engaging in strategic role-playing games (RPGs) and real-time strategy (RTS) games such as Rise of Kingdoms, Call of Dragons, and other similar titles.
3. Use Mouse For Short Cuts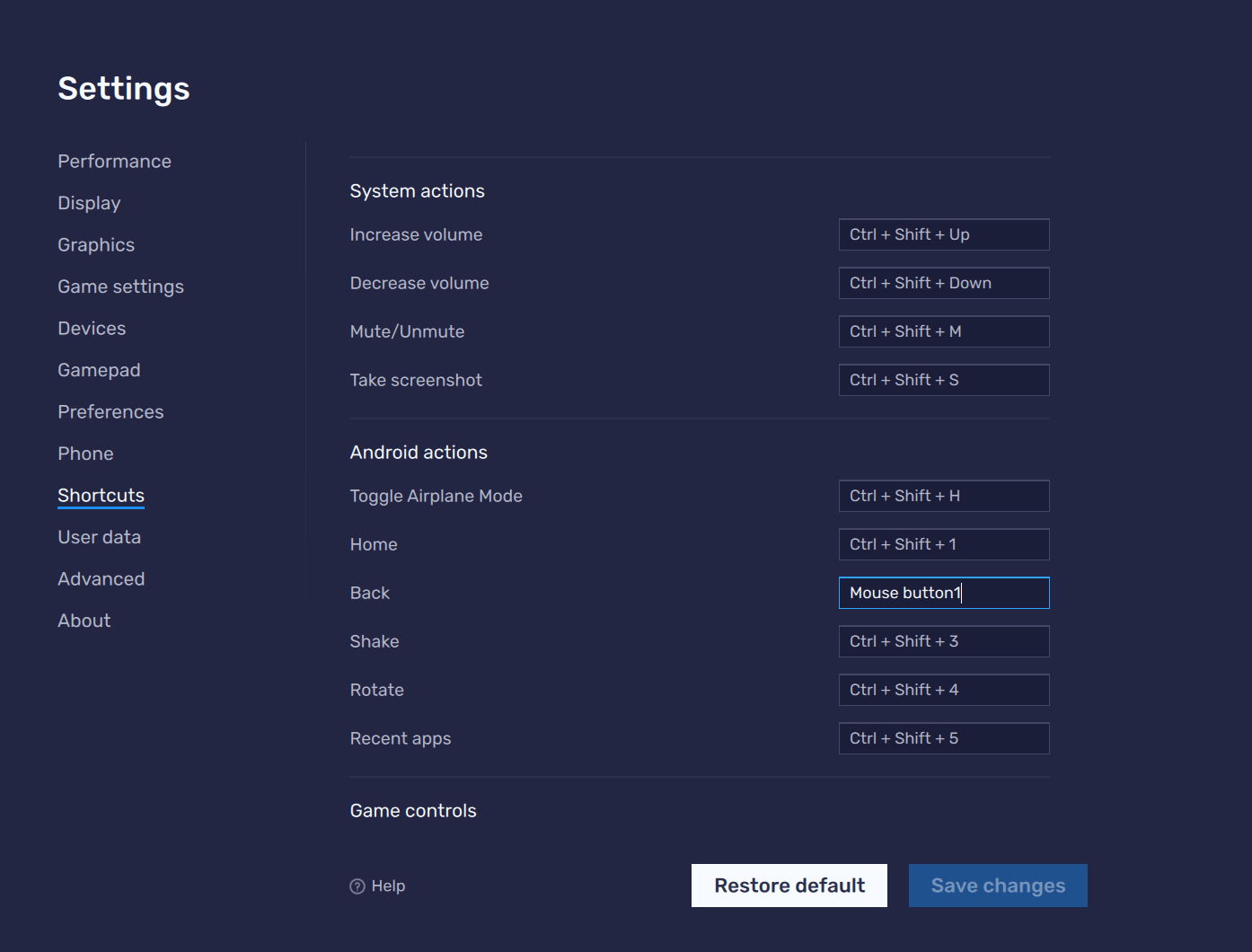 In the latest iteration of BlueStacks, version 5.13, a notable addition has been made to its repertoire. Users can now allocate specific mouse buttons to perform designated shortcuts, thereby bestowing them an enhanced level of command and authority within their preferred gaming experiences. This feature proves to be particularly advantageous for individuals engaged in gaming, specifically those possessing a gaming mouse equipped with a pre-established auxiliary button located either at the rear or on the side. One may conveniently avail oneself of this functionality by navigating to the BlueStacks Settings, selecting the Shortcuts option, and proceeding to the Android Actions section.
4. Introduce Mini Mode
The Mini Mode is a recent addition to the expansive repertoire of functionalities within the BlueStacks platform. Within the confines of Version 5.13, one may observe the presence of the Mini Mode alternative situated atop the taskbar of the BlueStacks application window. To gain access, gamers may engage by selecting the icon of three horizontal lines positioned at the uppermost section. By employing the innovative feature known as Mini Mode, users will have the capacity to reduce the game interface to a smaller scale, thereby enabling them to allocate their attention to alternative tasks of importance. This will enhance the gamer's aptitude for multitasking by a significant degree. Furthermore, gamers will be able to conveniently modify the dimensions of the application player at their discretion.
In the realm of Strategy games, one possesses the ability to reduce the game interface to a smaller scale, all the while maintaining a heightened state of vigilance for potential in-game assaults while simultaneously indulging in the perusal of one's preferred humorous visual content on the vast expanse of the Internet. If you are engaged in the act of streaming live television content, it is within your purview to employ the utilization of Mini Mode. This feature enables the affixation of the video feed to the lower right quadrant of your screen. When the Mini Mode is enabled, the BlueStacks application player shall be affixed to the uppermost section of the screen, thus granting the gamer the autonomy to decide whether or not to detach it.
5. Enhance Internal Storage
In the bluestack 5.13, gamers shall be delighted to discover the inclusion of a substantial 128GB internal storage capacity. Cease to concern yourself with eradicating applications to create storage space. For now, you can retain all of your preferred applications. Furthermore, bid farewell to the arduous task of discerning which multimedia files to retain from applications such as Snapchat, Instagram, and WhatsApp. Increased storage capacity amplifies personal liberties, enabling individuals to engage in an expanded array of activities that bring them joy and fulfillment.
How To Download And Play Games
Downloading Android Games from Bluestacks is relatively easy. Just follow the given steps:
Step1: Download Bluestack
Go to the official BlueStacks website: https://www.bluestacks.com/
Click on the "Download BlueStacks" button.
Select the version of BlueStacks that you want to download (Windows or Mac).
Click on the "Download" button.
Step2: Download And Play Games
Once the download is complete, open the installer file and follow the instructions to install BlueStacks
Go to the Google Play Store and sign in with your account.
Search the game in the Play Store
Download the game and let it download
If you didn't sign in earlier, sign in to the Google Play Store.
Now enjoy the Game.
Myth's
1. Gaming Experience
BlueStacks takes great pride in its commitment to delivering an immaculate gaming experience free from the pernicious presence of malware, spyware, and adware. Engaging in data monetization is not a part of our established business model, nor is it an activity we have ever pursued. We proudly assert our exclusive affiliation with esteemed industry leaders such as MSI, Intel, AMD, Qualcomm, and Samsung and an impressive roster of over 150 distinguished game developers, solidifying our position as the sole Android gaming platform of choice.
2. PC Configuration
BlueStacks can function on various computing devices, irrespective of their specifications. Although we do proffer specific minimum prerequisites, it is essential to note that these conditions are not obligatory for the seamless execution of the majority of gaming applications. When employing the BlueStacks software, it is noteworthy that an ordinary personal computer configuration can rival and contend with top-tier Android devices. We offer the provision of selecting the desired number of CPU cores and the allocated RAM capacity for BlueStacks, thereby enabling the fine-tuning of game performance to meet individual preferences. Indeed, according to recent empirical evaluations, BlueStacks has demonstrated a noteworthy superiority, surpassing all other existing Android platforms by a substantial margin of 30% in terms of overall swiftness.
3. Best Games Compatibility
Due to BlueStacks' direct collaboration with developers and technology providers, we possess the unparalleled capability to offer the most exceptional game compatibility within the market. As an esteemed Android gaming platform, distinct from a mere emulator, our esteemed developer partners trust us to deliver an equitable and impartial gaming experience. In reciprocation, they grant us exclusive access to games and content ahead of time, enabling us to ensure optimal performance for your eventual gameplay meticulously. Due to this circumstance, we undertake exceptional measures to ensure that our users engage in equitable gameplay and refrain from deceit or dishonesty. This encompasses the regulation of Root Access and various intricate developer integrations, thereby rendering the act of cheating exceedingly arduous, even for individuals possessing advanced technological acumen.
4. Performance
BlueStacks offers a plethora of optimizations, including diverse graphical modes and insightful strategies, to enhance its performance beyond the capabilities of the swiftest smartphones. Consequently, it affords users a superior gaming experience that surpasses what can be achieved on even the most outrageous Android devices. The Hyper-G graphics technology employed by BlueStacks harnesses your system's full potential, generating a meticulously refined gaming encounter, irrespective of the specifications. Irrespective of whether one possesses an integrated graphics card or the esteemed RTX 2080Ti, it is plausible to execute the most recent and arduous Android games with unparalleled proficiency, surpassing the capabilities of any conventional Android phone.
Top 50 BlueStack Games
Dragonheir: Silent Gods
Girls War
Last Ultima
Code Geass: Lost Stories
Age of Apes
Overmortal
Isekai: Slow Life
GRAND CROSS: Age of Titans
MapleStory R
Tales & Dragons: NewJourney
Ghost Master: Survival
Tower of God: NEW WORLD
Myth: Gods of Asgard
Metal Slug: Awakening
King Arthur: Legends Rise
Tarisland
Undawn
takt op. Symphony
DragonNest2
Madtale: Idle RPG
Summoners War
Black Clover M: Rise of the Wizard King
Harry Potter: Magic Awakened
Panilla Saga – Epic Adventure
BrownDust2 – Adventure RPG
Grand Theft Auto: San Andreas
Kingdom Guard: Tower Defense TD
Aether Gazer
The Lord of the Rings: War
HIT2
Honkai: Star Rail
Matchington Mansion
GTA 5 Mobile – Grand Theft Auto
Stumble Guys
Free Fire MAX
Meta World: My City
PUBG MOBILE
FIFA Football
Need for Speed Most Wanted
Minecraft
Battle Night: Cyberpunk
Game of Empires: Warring Realms
Real Cricket GO
State of Survival: Zombie War
FIFA Mobile
Grand Quest
MARVEL SNAP
Idle Heroes
Call of Dragons
War Robots Multiplayer Battles
FAQs About BlueStacks
1. Can BlueStacks be used for Mac Also?
Bluestacks is readily available for download and compatible with the macOS operating system, enabling users to execute them seamlessly. It is imperative to diligently verify the file format, procure the download exclusively from the official website, and proceed with the installation in strict adherence to the provided instructions.
2. What are the Basic Hardware Requirements to Run BlueStacks?
The minimum requirement to run Games, Free Movies, and series on your PC
Operating System: Microsoft Windows 7, Windows 10, Windows 11 or latest:
Processor: Any AMD & Intel process compatible with it.
RAM: Minimum RAM 2GB or greater, but we recommend you always use at least 8GB Ram
HDD: Blue stacks require a minimum 5GB RAM, but greater than  5GB would be better for you
The minimum requirement for a Mac is:
Operating System: Mac® OS X® 10.12 (Sierra) or greater, up to 10.15 (macOS Catalina)

OS Architecture: 64-bit or above

Processor: Intel or AMD Dual-Core Processor

Virtualization: VT-x/AMD-V Should be enabled

Graphic card: Intel HD 5200 or higher

Minimum Memory: 4 GB or Greater RAM

Storage HDD Space: 8 GB minimum, but higher is better

Graphics Drivers: OpenGL 2.1 holder graphic card

Power Plan: High Power computer

Resolution: HD 1280 x 800 minimum required
3. `Is Bluestacks Free Of Cost
Bluestacks is a free-cost Android emulator. It would be wise to check the popularity and performance before downloading.
4.  What is the difference between a simulator and an emulator?
An emulator fundamentally replicates the intricate interplay between software, hardware, and operating systems, enabling the simulation of a mobile device's functionality on a personal computer. The resultant consequence of executing a task on an emulator invariably aligns with the identical outcome of the authentic object.
A simulator emulates the intrinsic functioning of the apparatus rather than its physical components. The simulation provides a comparable outcome to the authentic apparatus and estimates, comprehends, and enhances the genuine system. In contrast, emulation yields an exact replication akin to the original device.
5. How To Safely Download Android Emulator?
The best and safest way to download an Android emulator is from the official website.
6. Why did Bluestacks ask to log in to a Google Play Store account?
A Google account is mandatory to install the games from the Play Store. It is also used for troubleshooting.
7. Is Bluestacks, an Android Emulator, safe to download?
In this regard, users must ensure to download the Android emulator from authentic sources, just like the official website. The risk of an emulator being affected by a virus is likely higher if downloaded from third-party websites.
8. How To Keep the System Faster While Using an Android Emulator?
In this regard, the user must ensure the following things to optimize the device to experience the best 'Android on PC':
Ensure the virtualization is ON
Always use authentic GPU drivers like NVIDIA/AMD and update it.
As much as your RAM is free, the speed of your computer remains high. So, the tip is to close other programs that are not used.
Configure your anti-virus.
Editor's Note
The Android Emulator is a powerful tool for testing and developing Android apps. It allows you to simulate a wide range of Android devices on your computer, without the need to have physical devices on hand. This makes it a valuable tool for developers of all skill levels, from beginners to experienced professionals.